COMMERCIAL & BUSINESS PROTECTIVE GLASS COATINGS
AND WINDOW TINTING
Protection, Privacy, Aesthetics and Productivity are important aspects of your business,
window tinting can provide and aid in accomplishing those goals for your business.
PROTECTING WITH PROTECTIVE GLASS COATINGS AND WINDOW TINTING
You can protect your business with our high strength safety and security window films which adds a clear layer of protection by helping to make glass shatter resistant. This can aid in discouraging unwanted intrusion by either criminals, vandals, or severe weather.Our high strength films reduce the ability of burglars to break in. Our high strength window films and our wet glaze attachment systems reduce the glass from shattering by bonding to the glass and to the window frame. This means it could take an intruder much longer to break through the glass and to get in. Security film combined with a good security system can the deterrence it takes to protect your business. Many intruders will abort their mission due to the difficulty level they encounter.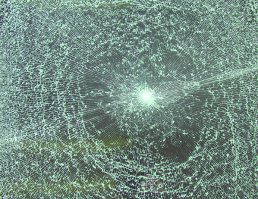 On occasions where the glass does get broken, the security film will contain most of the glass instead of it shattering into a hundred little pieces. This makes the environment safer and reduces the risk of injury as well as making for an easier replacement of the glass. Quite often, once a glass opening has been compromised, you may not need to board up the window while waiting for glass replacement.
PRIVACY AND PRODUCTIVITY FOR YOUR OFFICE
We offer many different varieties of window films for individual offices, conference rooms, and glass partitions. Our decorative films add elegance while providing privacy in offices and conference rooms. Our decorative window films also helps to increase your workers' productivity by reducing distractions which allows the worker to be more focused on their tasks.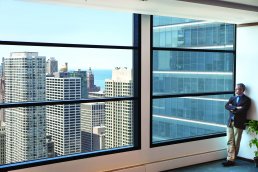 There are many different types of glass coatings and tinting for commercial properties. Solar control film is just one of them. It is a product that enhances the aesthetic value of a building while reducing the solar heat gain. Reducing the SOLAR HEAT GAIN will reduce cooling costs thus, solar control window film has a pay back. Solar control window films also reduce the ULTRAVIOLET RADIATION by 99.9%. UV Radiation is 40% of the reason that an interiors furnishing fade prematurely. Having a solar control window film installed will prolong the life of the interiors furnishing. However, by eliminating the UV radiation alone is not enough to control the fading. Heat and Light also play an important role so, a dark solar control film will provide the best solution to fading and glare problems.
Many times a commercial property needs to have the entire window opening totally blacked out. For that, we have a black opaque film that does not allow any light penetration. For privacy needs without light reduction, we have a white frosted film. This product allows most of the light in but, no one can see in or out. These frosted films are available in many different opacity levels.We have many decorative films that are used in an offices interior. Many conference rooms, offices, and kitchen areas require a degree of privacy so, we can apply these films to all or just part of the windowpane. There are many designs and patterns to choose from, see our film viewer and explore the possibilities.
ENERGY SAVINGS
Installing a solar control window film on your commercial building or your office windows will reduce the solar heat gain without compromising the visible light. These films can also provide daytime privacy from the exterior. Reducing hot spots in your office increases comfort for your clients and workers which leads to better productivity. You can expect energy savings which will result in a payback on your investment. On large projects, we can perform an energy analysis and estimate your payback and return on investment. We offer a wide variety of films from light to dark, neutral in color to bronze, silver, and gray colors. All are backed with a manufacturers warranty which includes labor and materials.
Please see our SAMPLE WINDOW FILM VIEWER below to choose the look that is right for your office.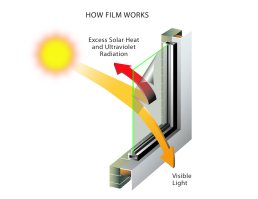 For more information on the types of products and services that we
offer please click here:  products/services page