RESIDENTIAL WINDOW TINTING ORLANDO-MAITLAND, AND WINTER-PARK
Protect your family, your environment, your belongings without having to live in the dark.
By having you home's windows tinted, you can reduce your energy bills, preserve your home furninshings, increase safety and comfort and also add privacy.  Solar Control window films can reduce up to 80% of the solar energy which creates an eco-friendly and cost effictive way to reduce utility bills with many other benefits.
Window tinting also reduces that horrible glare created by bright sunlight. Many times you will want to keep your curtains or blinds closed for this reason. With tinted windows for your home, the sunlight glare and heat is significantly reduced which allows you to get both natural sunlight into your home without the annoyances of the heat, glare, and fading Adding natural sunlight to your home may also reduce the need for keeping extra lights on in the home which will help reduce utility costs as well.
Our window films reduce the Ultraviolet radiation by 99% which helps to protect your flooring, furniture, and other items in the home from fading and discoloration. You can block out 99.9% of the UVA & the UVB with window tinting. This helps prolong the life of your floors, carpets, furniture and other items within the house which are susceptible to deterioration from the sun's ultraviolet rays.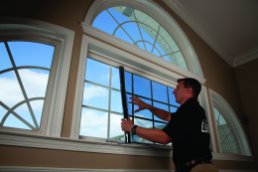 Add Security to Your Home
By having a protective glass coating installed on the windows of you residential property, you are also adding an additional layer of safety.. Our solar window films were designed to reduce the heat, glare, and fading but, they also add a layer of safety incase your glass was ever compromised. This helps to prevent or reduces glass shards from shattering into a number of pieces if the window is hit by something from the outside.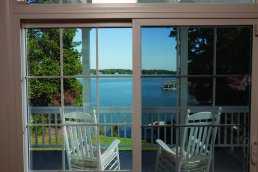 Additionally, we have products designed specifically for the safety and security of your home. These films are much thicker than the solar control films and they can greatly reduce the risk of injury or intrusion. Intruders can be easily discouraged when they encounter a window that has window film on it. Those extra seconds or minutes it takes for an intruder to break the window may deter him completely or cause your home alarm to sound and maybe scare them off.
Of course, the window film cannot guarantee or completely prevent a break in to your home but, it can act as a deterrent to a burglar because they know that it's hard to break in through a tinted window. Thus, by having tinted windows in your home, it may be the difference between that intruder's choice of you or the neghbor without the tinted windows. The more difficult it appears for an intruder to break a window and get in and out quickly, the more likely they may be to move on to an easier place to break into.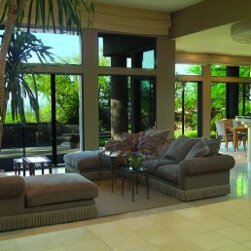 Home Window Tinting Shades, Textures, and Decorative Window Films
Window tinting can add to the aesthetic value of your home. At Protective Glass Coatings of Central Florida, we offer a variety of choices for different window shades, colors, textures, and decorative options. You can add privacy to your home while maintaining the modern look of your home. Our decorative films can produce a look of etched glass, sand blasted looking glass, and unique patterns and designs.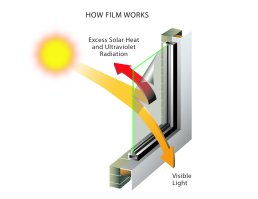 IMPORTANT NOTICE:
Some products are not approved in the State of Florida for use as hurricane, windstorm, or impact protection from wind-borne debris from a hurricane or windstorm. In compliance with Florida Statute 553.842, this product may not be advertised, sold, offered, provided, distributed, or marketed in the State of Florida as hurricane, windstorm, or impact protection from wind-borne debris from a hurricane or windstorm.